Ingredients
---
Featured products for this recipe
---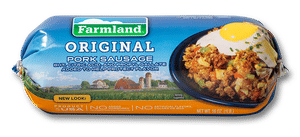 4 tablespoons
Unsalted Butter, Softened
1/4 cup
Garlic Dill Pickles, Sliced
Directions
---
Heat a griddle over medium-high heat and cook the bacon until crispy. Drain on paper towels and reserve.

While the bacon is cooking, divide the sausage into 4 even balls and press to make large patties.

Cook the sausage on the same griddle for about 4 minutes on each side, or until cooked through, drain on paper towels, and reserve.

Decrease the heat on the griddle to medium, carefully crack the eggs onto the griddle and cook sunny side up until the whites are set. Gently transfer to a plate and reserve.

To assemble: Wipe the griddle clean, spread some of the butter on each half of the rolls and toast on the griddle. Dress the bottom of each roll with the maple Dijon. Place 2 pieces of leaf lettuce on the bottom of each roll, top with one patty of sausage, then 2 slices of the cheese, then 3 slices of bacon, some of the pickles, then one with each of the eggs. Dress the top of each roll with the maple Dijon, then lean the tops against each sandwich, taking care not to break the yolks.

Serve immediately.
Home to honest-to-goodness goodness